archives of global protests
San Diego/Tijuana FTAA Protest, April 21, 2001
by charles dilworth 6:45pm Sun Apr 22 '01
address: San Diego, CA chuck_dilworth@hotmail.com
[Read below: What Really happened at the SD-TJ FTAA Event]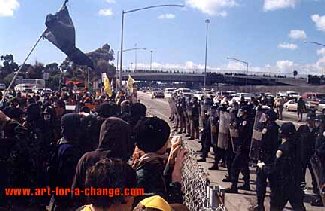 Despite uncharacteristic, heavy rains in Tijuana and San Diego there was a large showing at the bi-national protest against the FTAA. Youth activists, union leaders, environmentalists among others gathered together at Larson Park within sight of the demilitarized zone of the U.S. — Mexican Border. Over one thousand protestors gathered to hear speakers talk on the FTAA. There had been plans to take the protest to Border Field State Park where a bi-national protest on both sides of "the Wall" (i.e. the large fence separating Mexico from the United States) would take place. The plans were to have two demonstrations on either side of the border in sight of each other through the fence. Unfortunately, the rains made the road to Border Field (on the U.S. side) inaccessible. As an alternative, many of the protestors marched to the San Yisidro border station. Where there was a lively yet fairly uneventful gathering. At the border, protestors left their mark with chalk and spray-paint. The police (SDPD) were out in full riot gear on the other side of a fence (separating the sidewalk border crossing from the highway crossing). Protestors were angered by their presence and demanded that they leave. There were a few tense moments but no incidents. After gathering at the border for about 30 minutes some of the protestors returned to Larson Park and others went to join the already lively demonstration in Tijuana.
In Tijuana there were speakers, in both Spanish and English, many bands and food (by Food Not Bombs from San Diego and L.A.). The stage was located right up against the border wall and a few hundred yards away from where the fence enters the water. For those of you who have never been there, imagine an rusty, iron fence about 10 — 20 feet high that continues to the east as far as the eye can see and to the west right into the Pacific. In some spots you can see across but, for the most part, it is a solid barrier. On the beach where the border wall enters the water someone had put up 8 feet high letters spelling "ALTO A GUARDIAN" (Stop Operation Guardian). The letters were made up of 600 paper skulls, each inscribed with the name of an immigrant killed while trying to cross the border. Also, imagine high, powerful stadium lights pointing over the wall like large interror-gation lights. The gathering was right under a tall light-house that lit up like a disco ball later on at night. The gathering included people from all over both Californias; from San Quintin to San Francisco. There was almost no police presence. This was probably due to the lack of any corporations (worried about a little spray-paint) anywhere close by. In fact, it was more like a party than a protest. As it became later speakers were replaced with bands and everyone joined in dancing.
libertad.ucsd.edu
A20
A20 global/ border actions
---
Just want to debunk some strange statements others have been making. We need to accept responsibility for our actions, and also not misguide readers. I understand some people did not witness any violence. That doesn't mean there wasn't any...
The event at Larsen Park (at the SD-TJ FTAA Protest)was like entering the Twilight Zone. I had only been to one other San Diego protest before. This is because I used to live in North Orange County and always attended Los Angeles protests. I moved down here to SD a few months ago for school.
The cops here (the San Diego cops, not the State cops) were so "friendly" it was actually quite "eerie" as one legal observer waiting to use the bathroom put it to me. I couldn't agree more. One male cop then joined us, and pretended to stand in line to use the women's bathroom. All he got were a couple of nervous smiles in exchange for his joke. The cops outside delivered strained smiles. I actually appreciated their nervous efforts at co-existence. To be honest, I think some of these cops (not used to protestors) were more afraid of us then we could possibly be of them.
To debunk some of the other comments being made by other article writers on this event, the Mexican cops did NOT turn demonstrators away from the border crossing, and yes, rocks WERE thrown at a few state police by someone in the vicinity of the Black Bloc, but I cannot confirm if it was one of the BB members who did it. Nonetheless, the police merely raised their riot shields, and one stepped out of the way to avoid a bottle that nearly crashed into a car waiting on the freeway to cross into Tijuana. Needless to say, the driver peeled away loudly to avoid any damage. Thankfully, the police did not respond with violence. Which is good because there wasn't any more object throwing after that (that I know of). I am sure someone stopped whoever it was from throwing anymore projectiles. If we had been in LA, they'd probably have fired rubber bullets by then. The Demonstration in SD was DEFINITLY more laidback and peaceful.
Ah, but the cops at the border DID confiscate signs. They even tried to take my face mask and my Free Mumia, and Anti-Police Brutality Pins. To avoid this, I just turned around and pretended to give them to someone on the U.S. side through the fence. I actually just put them in my pocket. The rest we gave to some demonstrators we didn't even know who were still on the other side. We gave them our address so they could send our stuff back to them if we didnt' run into them again.
The Playas de Tijuana Event was very fun, although I am disappointed to hear I missed Atzlan Underground on the U.S. side. Too bad Borderfield closed. I bet the Park Rangers were happy as hell for that rain. They were giving us alot of BS when we were trying to get a permit to hold the event there.
The day was a success I believe. Thank you to everyone who came. Peace and Solidarity, Brothers and Sisters.
Michelle
La Resistencia, San Diego Chapter (an organization dedicated to opposing the U.S.-Mexico Border Wall), and
The Southwestern College Student Activist Network.
noftaa.8m.com