archives of global protests
bangladesh ,NGWF, Strike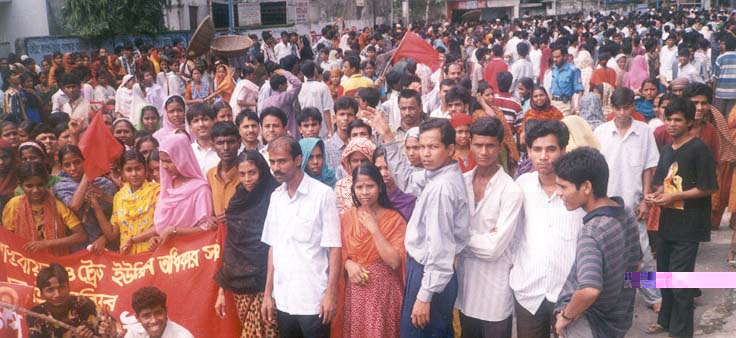 From: Amirul Haque Amin
General Secretary
National Garments Workers Federation
Greetings.Strike is almost success.I am giving the report from one of our Daily English Newspaper.There are 2 photos in Attached file.Strike - 1 is procession of NGWF during the strike.strike - 2 are "Workers are outside of the factories".
Amirul Haque Amin
General Secretary
National Garments Workers Federation
2.07.01
Skirmishes mark garment workers strike
10 including cops hurt : 13 arrested:several factories damaged
"At least 10 people, including two policemen,were injured in skirmishes during a dawn-to-dusk strike called by the Bangladesh Garments workers Unity Council(BGWUC) yesterday.
The garment workers called the strike across the country demanding implementation of their six point charter.
at least 17 garment factories were damaged in the city by elements hired by some owners,alleged the striking workers.
police arrested 13 garment workers from mohakhali area for their alleged involvement in demanding the factories.
The arrester are : Ibrahim(20),AnisurRahman(22),Nazrul(22),Raku(30),Santi Chandra das(30),Mohammad Hanif(25),Samad(20),Leon(18),Saiful(20) and Abdul Latif(25).
thousands of garments workers took to the streets to press their demands.
the BGWUC also held a rally at Muktangoan with labour leader abul Hossain in the chair.Sramik Karmochari oikya Parisad(SKOP)leader Shah Mohammah abu Zafar and BGWUC leaders Amirul Haque Amin,Shalauddin Swapon,Tauhidur Rahman,Delwar Hossain,BM Abul Hossain,Jahangir Hossain,Jahanara Begum,Manjurul hasan khoka,Nayan Bangali,Tahmina Rahman,Mojibor Rahman Pintu,addressed among others.
the labour leaders urged the authorities concerned to implement their demands. They threatened to launch a greater movement if their demands are not met immediately.
Meanwhile , general secretary of National garments Workers Federation Amirul Haque Amin, Jahangir hossain ,Miss Shahida Sarker,Ohiduzzaman and Mojibor Rahman pintu in a joint statement, congratulated the workers for observing the strike."
The Independent
Dhaka, Monday 2 July,01
P.s.
** Real number of arrested workers are : 25
** There are 5 cases against the workers and organisers.