archives of global protests
Bangladesh: Women Workers rally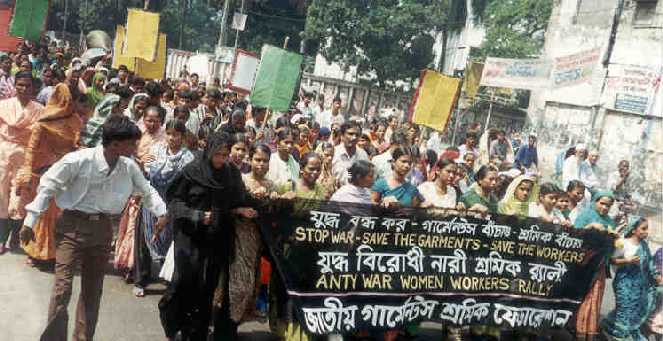 20.10.01

ANTI WAR WOMEN WORKERS RALLY
Greetings from Bangladesh.
National Garments Workers Federation yesterday 19 th October,01 organized a ANTI WAR WOMEN WORKERS RALLY in Dhaka city.More than 5 hundread workers participated in the rally.Main slogan was " STOP WAR - SAVE OUR GARMENT - SAVE OUR WORKERS".At 11 am in front of the national press club the workers gathered.Before start the rally it was addressed among others Amirul Haque Amin,Mr.Abed Raja,Miss Shahida Sarker,Miss Safia pervin, Mrs.Bithy Akter,Mojibur Rahman Pintu,Mrs.Mayna,Miss Runa Akter.
The speakers mentioned that - 72 countries are getting free eccess of garments product in u.s market .But Bangladesh is not getting this previlage.As a result more than 1000 garment have already closed and the workers are unemployed .Dew to the present war , More garments are goimg to close soon .
The speakers urged to stop war - save the bangladeshi garments -save the garments workers.
The rally was finished in the Purana Paltan after parred the main steets of the city.
In the attached file the picture of the rally.
In solidarity
Amirul Haque Amin
General Secretary
National Garments Workers Federation