archives of global protests
Bangladesh, May Day Campaign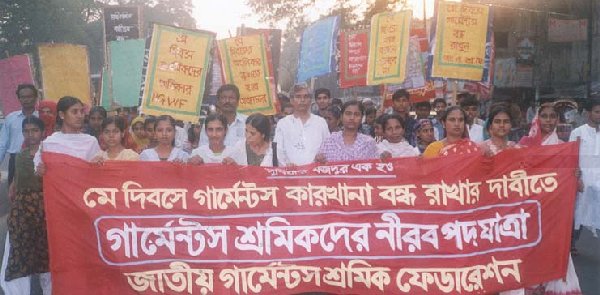 From: Amirul Haque Amin
General Secretary
National Garments Workers Federation
20.04.01
Greetings.We have started a short Campaign for the implementation of May Day holiday in the whole Garments sector of Bangladesh. The campaign and news as:
Campaign For The Implementation Of
May Day Holiday In The Whole Garments Sector
May Day is a National paid holiday in Bangladesh. All the Private and Public sector follow this.But this is not follow in the Garments sector in.lot of garments owners forched the workers to work in the May day and the factory run.
National Garments Workers Federation have started campaign for the implementation of May Day holiday in whole garments sector.
On 7th April,01 National Garments Workers Federation organised a representative meetings-on which the federation took decission to start the campaign.
From 8th to 19 th the federation organised group meetings in different garments areas and local areas where the garments workers live.
on 20 th April The Federation organised a central SILENT PROCESSION from central place of Dhaka city.
From 21 to 26 th april the federation will organise processions in different garments areas.
On 27 th April the Federation will organise a central TOURCH PROCESSION.
1st May The Federation will start processions from differents garments areas at 7 a.m and will meet in the Central MAY DAY RALLY at 10 a,m
that will organise by the Bangladesh Garments Workers Unity Council(umbrella organisation of 7 garments workers federations including the NGWF).
** The federation have publicised posters and leaflets in fabour of the demand May Day Holiday in the garments sector.
*** Solidarity message will be most wellcome.
*** In the attached file the picture of Silent Procession of NGWF.
In solidarity
Amirul Haque Amin
General Secretary
NGWF
read also: Campaign For The Implementation of May Day Holiday In The Garments Sector