archives of global protests
Memorandum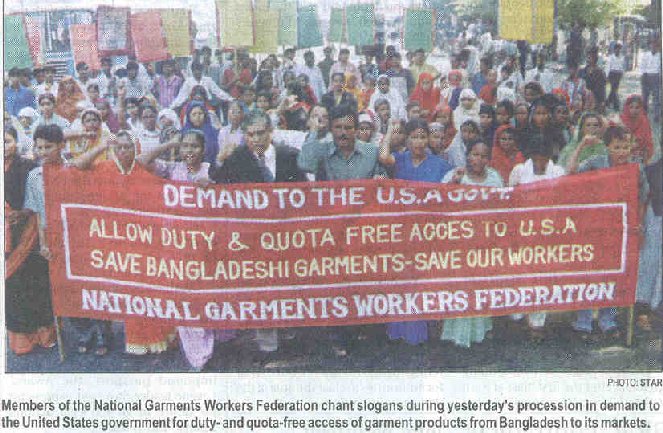 Greetings. Yesterday 25th October,National Garments Workers Federation have submitted a MEMORANDUM to The USA embassy in Bangladesh demanding for DUTY FREE & QUOTA FREE ACCESS OF BANGLADESHI GARMENTS PRODUCT TO THE USA MARKET.I am sending the report from one of our English Daily though it is not full.
In solidarity
Amirul Haque Amin
General Secretary
National Garments Workers Federation

THE REPORT
"GARMENT WORKERS DEMAND DUTY-FREE, QUOTA-FREE ACCESS TO US MARKET"
Express Report.
Garment workers brought out processions Thursday, held rallies and handed over a memorandum to the US embassy demanding duty-free and quota-free access of Bangladesh apprels to the US market.
Earlier, they held a rally in front of the National Press Club under the banner of National Garments Workers Federation (NGWF).
Speakers at the meeting criticised the US government for its bias towards other countries which they said jeopardesesd the country's garments industry that provided employment to two million people.
About 1000 garment industries have been closed and 300,000 people have already lost their jobs due to cancellation, suspension and rejection of orders by the US buyers following the September 11 terrorist attacks in the USA.
They critised the US government for providing duty-free and quota-free access of 72 sub-Saharan and Caribbean countries to the US market. Very recently Pakistan was also given the same facilities.
The meeting presided over by Amirul Haque Amin, general secretary of the federation, demanded immediate provision of duty-free and quota-free access of local garments to the US market.
The meeting was addressed, among others, by advocate Abed Raja and NGWF central leaders Shahida Sarker, Kazi Mohammad Ali, Mariam Begum, Jahangir Mollah, Shaheeda Akter and Mojibur Rahman Pintu."
THE FINANCIAL EXPRESS
Friday,October 26 th.
First Page