archives of global protests
Festival bonus-1, NGWF
Campaign & Action for the Festival Bonus for the Bangladeshi garments workers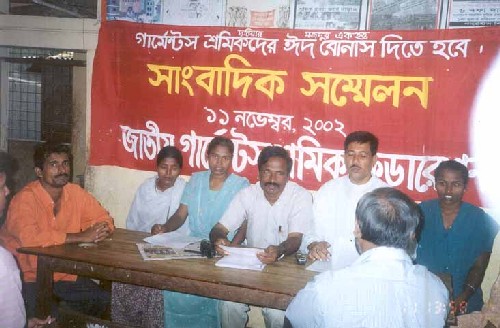 11.11.02
In Bangladesh, National Garments Workers Federation started a Campaign & Action for the Festival Bonus for the garment workers. Through a press conference the federation announced this programs.The press conference held today 11 th November,2002 in its central office. It was addressed by the general secretary Amirul Haque Amin.Among others Kazi Mohammad Ali, Miss Shahida Sarker,Mojibur Rahman Pintu,Miss Nurun Nahar,Mrs Arifa Akter and Alam Kabir were present.
The federation mentioned, " It is the month of Fasting(Ramjan).After the fasting month-main festival "EID". All the workers and imployees both public and private received festival bonus in this festival.This bonus is equavalant to One month salary.Every where it is established.Only in the garment sector is different.1.6 million garment workers worked in 3300 garment factories. Majority of the garment owners do not provide Festival Bonus for the workers.Some owners provide bonus but half and some of them provide sulmp sum.
In the name of bad condition,Most of the owners are trying to deprive the workers from the bonus."
In this critical position , the federation started this program for the realisation of the festival bonus. In the press conference the federation urged to the garment owners and BGMEA to give Festival Bonus, Wages of November and all outstanding wages within 2nd of the December.
Main festival EID will be held on 6th December.
The federation also announced the programs as follows:
Nov.12 th to 14 th.
: Group meetings of garment workers.
Nov.15th
: Festival Bonus Publicity Day.
Nov.16th to 21st
: Gate meetings.
Nov.22nd
: Festival Bonus Demand Day.
Nov.23rd to 29th
: Garment workers Rally in garment industrial zones.
Nov. 30th
: Memorandum to the BGMEA.
From 1st dec.
: Agitation.

Send solidarity message to the garment workers.
Write to the MNC,s to put pressure their Bangladeshi sub contactors for the workers festival bonus.

In solidarity
Amirul Haque Amin
General secretary
National Garments Workers Federation

---