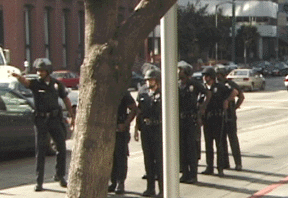 In Los Angeles people spend 82 hours a year in a traffic jam. So we spend 82:365 hours in a traffic jam today. But where it exists, we are allowed to take the carpool lane for 2 or more persons in a vehicle. And this makes us moving really fast, because nearly nobody else fulfills this hard criterion. Conclusion: We are sooo non-LA.
The police forces start to run, surround us, and there they are, and here we are, protesting in front of Occidental Petroleum, and its presence in U'wa land, Colombia, where they continue to move forward with plans to drill.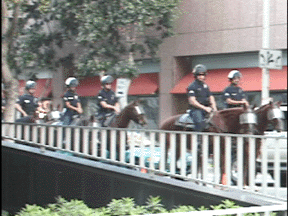 The U'wa of the Colombian cloud forest are in a life-and-death struggle to protect their traditional culture and sacred homeland from an oil project slated to begin on their land at anytime. Their opposition to the oil project is so strong that they have vowed to commit collective suicide if Occidental Petroleum and the Colombian government proceed with the oil project on their ancestral lands. The U'wa, a traditional people some 5.000 members strong, explain they prefer a death by their own hand than the slow death to their environment and culture oil will bring. Two days ago 200 of them, including men, women, children and tribal elders, marched on the site of Occidental Petroleum's planned oil well Gibraltar 1, establishing a permanent settlement to block the drilling slated to begin in the coming weeks. Hundreds of additional U'wa are expected to continue arriving to the settlement in upcoming days. Originally one of them planned to be on the caravan, but then nobody of them wanted to leave their land in this time of struggle. Occidental petroleum won approval in late September to begin drilling for crude there after a seven-year legal wrangle over indigenous land rights blocked work. The first exploration well is expected to be some 14,000 feet deep. The oil field is assumed to contain some 2 billion barrels, the equivalent of three months of U.S. consumption - what is hell a lot, as we all know.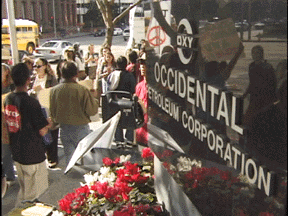 A core tenet of U'wa culture and spirituality is the belief that the land that has sustained them for centuries is sacred. They strongly believe that to permit oil exploration on these sacred lands would upset the balance of the world. In the words of the U'wa, "Oil is the blood of Mother Earth. To take the oil is, for us, worse than killing your own mother. If you kill the Earth, then no one will live".
The U'wa people's struggle recently exploded into the public arena with the tragic March 5th murders in Colombia of three indigenous rights activists: Terence Freitas, Ingrid Washinawatok and Lahe'ane'e Gay. Terence had devoted the last two years of his life to supporting the U'wa in their campaign to stop Occidental's oil project, reclaim their ancestral homeland and protect their traditional culture. Ingrid and Lahe'ane'e were coordinating with the U'wa to launch an educational project designed to maintain and promote the U'wa's traditional way of life.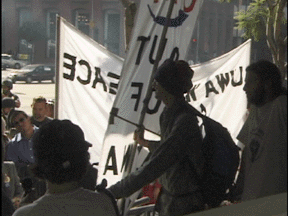 The current drilling plants threaten the survival of both the U'wa and their environment. The U'wa's cloud forest homeland in the Sierra Nevada de Cocuy mountains near the Venezuelan border is one of the most delicate, endangered forest ecosystems on the planet. It is an area rich in plant and animal life unique to the region, and the U'wa depend on the balance and bounty of the forest for their survival. Where oil companies have operated in other regions of the Amazon basin, cultural decay, toxic pollution, land invasions and massive deforestation have followed.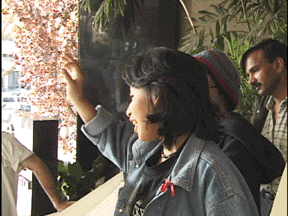 Ten different organizations in LA, among them Amazon Watch, Rainforest Action Network, and the Southern California Fair-trade Network are involved in this protest. We are noisy and, for sure, annoying for those in the building. Sometimes you see some faces behind the door, but they're not brave enough to step out. "We are willing to have the government bomb us, but we will not abandon these ancestral lands because we must stop Oxy from drilling for oil, which is the blood of our Mother Earth", an Indigenous representative quotes U'wa's spokesperson Berito Kuwaru'wa. Several of us speak as well. Ibe of the Indigenous Kuna Movement in Panama says: "For more than 500 years we suffer, and for more than 500 years we resist. If it's necessary to shed our blood, we will." And in his own language Kuna he adds: "Never we have been on our knees, and never we will."
MORE INFORMATION ON THE U'WA STRUGGLE
When the demonstration ends, everybody marches to the university, where we have a teach-in.
CONTACT:


icc99presse@gmx.de

.October 28th, 29th, 30th, 31st November 1st, 2nd, 3rd, 4th, 5th, 6th, 7th, 8th, 9th, 10th, 11th, 12th, 13th, 14th, 15th, 16th, 17th, 18th, 19th, 20th, 21st, 22nd, 23rd, 24th, 25th, 26th, 27th, 28th, 29th, 30th Global Action Day December 1st, 2nd, 3rd, 4th, 5th